As the year draws to a close I have been thinking about how different holiday celebrations have been this year. In a year without the typical dose of merriment and celebration, without the usual closeness and warmth of the season, I have been wanting for a way to connect with others through food.
It is difficult to share a meal over a video call, but food seems to be the most common tradition shared between all sorts of gatherings.
My mind returned to a draft of a blog post from this summer about charcuterie boards. Charcuterie boards were in high fashion this summer and I realized that they are the perfect fit for virtual holiday celebrations, even if they are unconventional.
What's better than good finger food and good conversation with people you love?! Next time you are prepping for a video call with family, try setting up an unconventional charcuterie board!
History
Originally, a charcuterie board would have meats and cheeses on it. However, people now add nuts, fruits, breads, pickles, and olives with the meat and cheese. It is very common for people to drink wine while alongside their charcuterie board.
While the original charcuterie board is still popular and many people are making them, I see unconventional boards being used more frequently. These unconventional charcuterie boards are fun because you can create a theme and add whatever fits the theme of your board!
Trends
Some boards that have been trending this past year include s'mores themed, holiday themed and brunch themed. During this winter season you can even warm yourself up with a hot chocolate themed board! By creating a board with lots of different ingredients, you can create unique flavor combinations.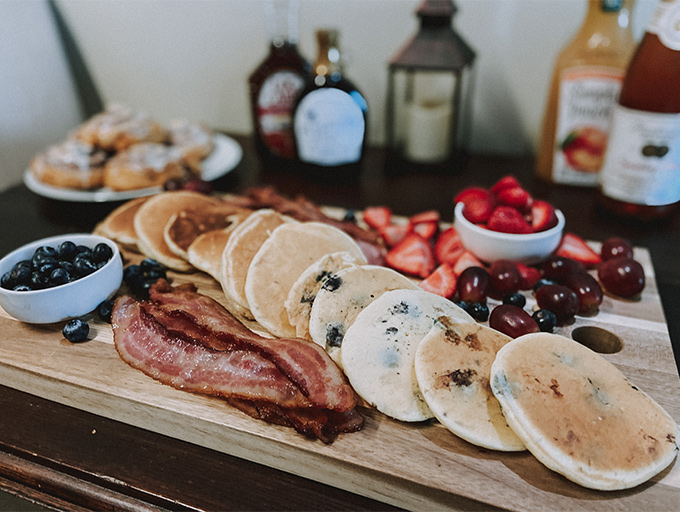 Now for the fun part! 

Grab a wooden board, your supplies, and let's make an unconventional charcuterie board!
A brunch themed board sounds delicious. You're going to need pancakes or waffles (or both!), assorted fruit, bowls, jam, yogurt, bacon or sausage, and peanut butter.
The jam, yogurt and peanut butter can be placed in bowls and placed around the board. The main food item, pancakes or waffles, should lay down the center of the board, either in a straight line or curved. Berries can be placed wherever around the board as long as it looks aesthetically pleasing.
You can't miss the opportunity to show off your board on your next virtual get-together and make sure to take a post for social media!
Making your own charcuterie board is similar to a painter with a blank canvas, you can express your creativity however you want. There aren't specific rules on how to put together a board, and that's what makes it fun. Get your friends or family on a call and enjoy a delicious charcuterie board!