Although this recipe uses oregano, basil, thyme, rosemary, and parsley, the key ingredient is Tuscanne Brands' granulated garlic. 
OVEN ROASTED GARLIC BREAD
Garlic Bread Ingredients
1 loaf Italian bread, approx. 24″ long
4 tablespoon softened butter
3 tablespoon granulated garlic
1/2 teaspoon dried basil
1/2 teaspoon dried oregano
1/2 teaspoon powdered thyme
1/2 teaspoon powdered rosemary
1/2 teaspoon dried parsley
Fresh basil for garnish
A few pinches of salt for garnish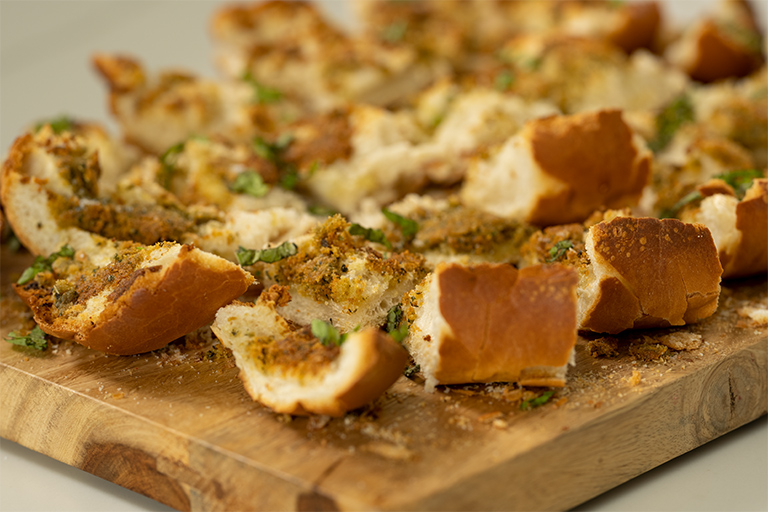 Garlic Bread Instructions
Start off by preheating your oven to 425 degrees.
Grab a bowl and add your softened butter to it. Next, add your spices: parsley, thyme, basil, rosemary, and oregano. Mix the spices and herbs into the butter until it's fully integrated and becomes a paste. Time for the secret ingredient… Garlic! Do the same thing you did with the herbs and make sure it's fully integrated into the butter mixture.
Time to grab to grab the bread and cut it lengthwise. Use a spatula to spread the mixture evenly over the bread. Once your bread is covered place it on a parchment-covered backing sheet and into the 425 degree oven for 10-15 minutes or until golden brown.
While your bread is cooking chiffonade (cut in tiny slices) some fresh basil for garnish. Place off the side until your bread is done.
Take the finished bread out of the oven, cut it into slices, then channel your inner food stylist by topping with the freshly cut basil and a few pinches of salt. Enjoy!