Welcome to one of our new monthly blogs! This blog series focuses on one food trend each month. You won't see fast fads on here. We are dealing with true trends with real staying power. This month we are tackling fried chicken but with a major twist! Traditional batters and egg-wash breadings are expectable and no fun. Instead, Mallory whipped up a batch of marinated Japanese-style popcorn chicken that uses the marinade and potato starch to make a quick batter in the bowl. Easy cooking with less mess is a recipe for success! Asian-inspired slaw makes a tasty side dish to complete the modern ensemble.
FRIED CHICKEN
2 pounds boneless chicken thighs
3 tablespoons soy sauce
1 tablespoons chopped ginger
1/2 teaspoon sugar
Potato starch, enough to cover chicken
Canola, sunflower, or other oil for frying
Lemon slices, to serve
ASIAN SLAW
1 cabbage (or 1/2 green 1/2 purple)
1/2 cup chopped cilantro
1 green onion
1/2 cup apple cider vinegar
3 tablespoons sugar
2 tablespoons sesame oil
2 tablespoons sesame seeds
1/4 teaspoon salt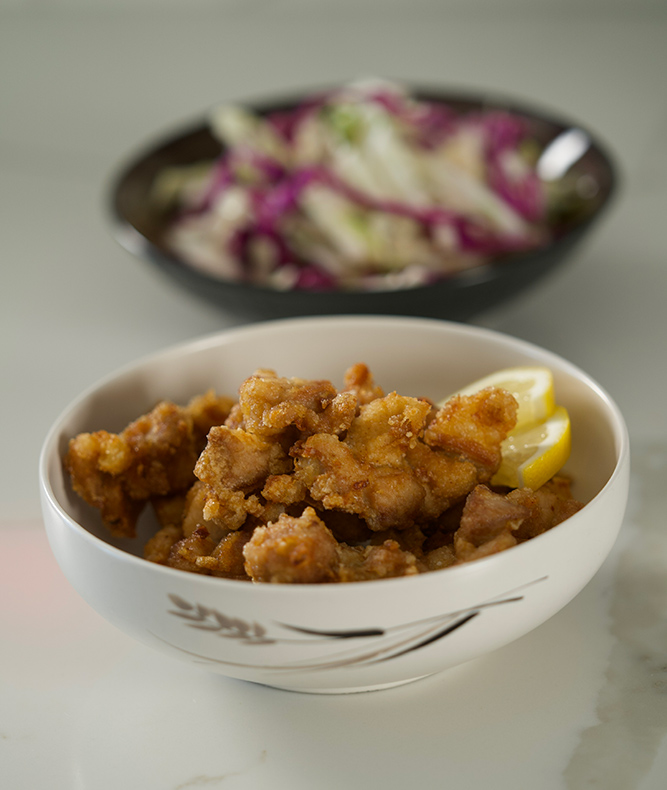 FIRST, WE'RE GOING TO MAKE THE SLAW DRESSING. ​
Pour the apple cider vinegar, sesame oil, sugar, sesame seeds, and salt into a small box. Mix until the sugar is fully dissolved.
Next, chop your cabbage into small shreds.
We like to add green and purple cabbage for extra color, but you can just use one if you want. Then chop up your green onion, cilantro, and any other veggie you would like to add. Pour your dressing over the vegetables and toss to coat. Set aside to let the flavors develop.
Now it's time to start the marinade for the chicken!
Remove the skin of the ginger, slice to julienne, and then chop. Add the chopped ginger, soy sauce, and sugar to a large bowl. Mix well.
Grab your chicken thighs and cut them into small pieces (roughly 1-2 inches squared). Set the chopped-up pieces of chicken in the marinade. Mix to coat chicken in marinade (this can be done the night before).
Coat the marinated chicken in potato starch (add more if needed). Add a few inches of oil to the pot and let it get to temperature. If you're unsure if it's hot enough grab a bit of batter and drop it in the oil to test. Add a couple of pieces of the chicken and fry it for 1 minute. Once that minute is up, remove the chicken and place it onto some paper towels to let the oil drip off. Wait 30 seconds then place back in the oil. Remove the batch after 30 seconds, then place it on paper towels and let rest for another 30 seconds. Last time! Add your chicken back in the oil for 30 more seconds.
Place the finished chicken into a separate dish lined with paper towels to catch the oil. 
Grab a dish, add some chicken, garnish with a few lemon slices, and then add your slaw. Enjoy your Japanese Popcorn Chicken & Asian Slaw!