3 EASY RECIPES FOR NATIONAL PUMPKIN SEED DAY!
In celebration of National Pumpkin Seed Day our team found a few different ways to make use of the seeds leftover after you clean out your pumpkin for carving. Carving jack-o-lantern's is very fun, but it's not fun to throw away something that can turn into a delicious snack!
Here in the office we have a wide range of opinions on what makes for the best crunchy treat. Some say sweet and festive is best. Others live on the wild side of the snacking universe and want that spicy, savory kick! Then there is always the discerning person who wants sweet and spicy in perfect harmony. We took everyone's unique perspective on snacking into account and made 3 recipes that cover the flavor spectrum so everyone can find a crunchy pumpkin seed snack to enjoy!
We hope you like these flavors (provided by Batavia Mills and Tuscanne Brands), please share if you come up with other great mixes!
Sweet & Spicy Seeds
1/4 tsp chili powder
1 tsp granulated sugar
Pumpkin Spice Seeds
1 tsp brown sugar
1/16 tsp ground cloves
1/16 tsp ground nutmeg
1/16 tsp ground ginger
1/16 tsp ground cinnamon
1/16 tsp ground cardamom
Savory Seeds
1/16 tsp black pepper
1/16 tsp ground horseradish
1/16 tsp ground basil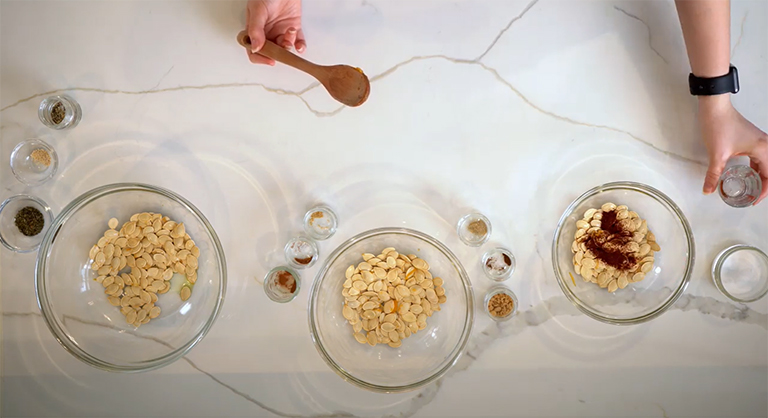 Before you start combining your ingredients, preheat the oven to 350*F and line a baking tray with parchment paper or a silicone mat and set aside.
Cut off the top of your pumpkin and remove and clean the seeds. For a quick removal, clean the seeds in some cold water then dry off. Now for the fun part! Add 1 teaspoon of olive oil to your bowl with the seeds.
*We did 3 recipes with one pumpkin, if you are using more seeds just increase the spices accordingly*
Add your spices to the oiled seeds and mix well until all seeds are evenly covered. Spread out the seeds on your prepared baking tray and cook for 10-25 minutes depending on the color. Look for nice golden brown edges then remove them to cool.
Enjoy!