It's August and that means it's time for a new ingredient, and this month we're highlighting dried chiles to make Pickled Red Onions. If you haven't read the chile pepper blog post yet, check it out here! We answer every question you have about chiles. Why chiles, you ask? With only trace calories and a spice level for everyone, dried chiles are an awesome way to add color and flavor to any savory (or even sweet) dish. There are a plethora of recipes we could have chosen to showcase chiles, but then Mallory suggested a favorite condiment: pickled onions!
This recipe is totally customizable. If you're not a fan of onion, you can use pretty much any vegetable of your choice: carrots, cauliflower, cucumber, or radish, are great options just to name a few. We wanted to give an example of possible applications for the pickles. The one we show this time is a squash salad. But this pickle recipe can be used as a condiment on almost anything.
Pickled Red Onions + Squash Salad
Pickled Onion Ingredients
1 red onion
1 cup water
1 cup vinegar (white vinegar, apple cider vinegar, etc.)
5 teaspoons granulated sugar
2 teaspoons kosher salt
2 teaspoons minced dried chiles
1 teaspoon of black pepper
3 cloves of minced garlic
Extra seasonings (bay leaves, black peppercorns, lemon peel, etc.)
Squash Salad Ingredients
Pickled red onions
1 lb. spring mix greens
1 roasted seasonal squash
Your favorite vinaigrette dressing
Optional:
Soft cheese
Nuts or seeds
Dried fruit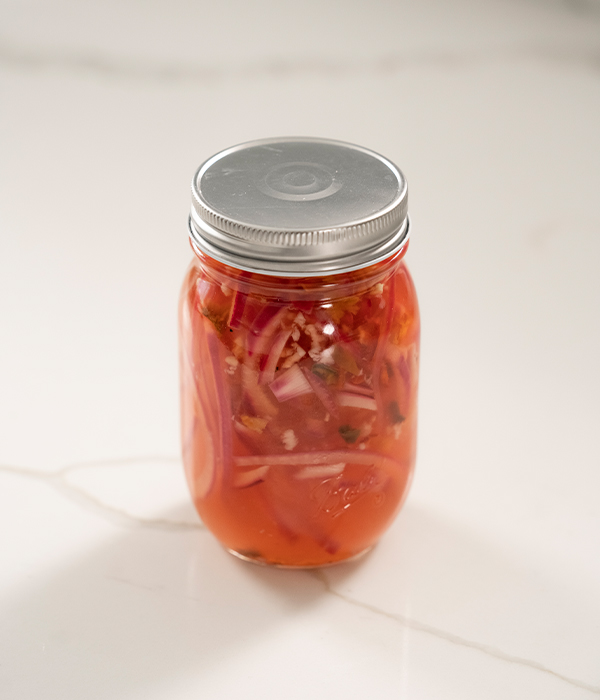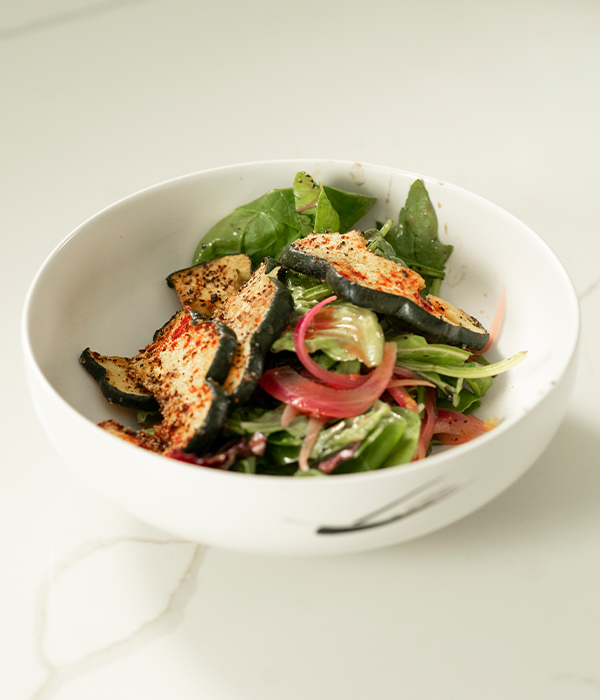 Instructions
Let's start with the pickles! First, you'll start by adding the water, vinegar, granulated sugar, salt, dried chiles, and minced garlic to a small pot. Add any other spices you'd like. Then, take that over to the stove and bring to a boil. Whisk to combine.
While the liquid is heating, thinly slice one red onion and add to a pickling vessel. We recommend using a mason jar, but you can use any airtight container. For this particular recipe, a glass container would be best because the chiles could stain a plastic container.
Once boiling, turn off heat. Give the liquid one last stir to make sure the sugar and salt have dissolved. Then, pour the liquid over the sliced onion and make sure they are completely submerged.
Put the lid on your airtight container and let it rest on the counter for one hour or until it is room temperature. Once your pickles have cooled off, you can put them in the refrigerator and store them for up to one week.
Now let's move on to the salad! When we brainstormed the application for our picked onions, we wanted to make sure the acidity was balanced out with something earthy and fatty. So we thought, why not squash? When we planned this recipe out, acorn squash was in season but further into the fall and winter feel free to use roasted butternut squash, eggplant, or even sweet potato! In our salad we used a spring mix for our green base and topped it off with our pickled onions and a homemade dressing.
Honestly, go nuts with the salad. Whatever greens you like, toss those in there! Nuts? Dried fruit? Goat cheese? All ingredients are welcome! Ultimately, those pickled onions play nice with so many salad components, it's hard to go wrong.
Adapted from Riverford Organic Farmers