"There's a hundred years of great ideas just waiting to be told."
Brian McCaskey's words from the 35th annual sales awards celebration of the Chicago Bears Vice President lingered in our minds for the entire weekend and new year. Our team chose Brian as the keynote speaker for this celebration, as we set our eyes on the future. For this year's event, we decided to take an evening to celebrate all our successes from the 2019 calendar year, acknowledging the performance of the sales team and making time to recognize the successes of our other teams.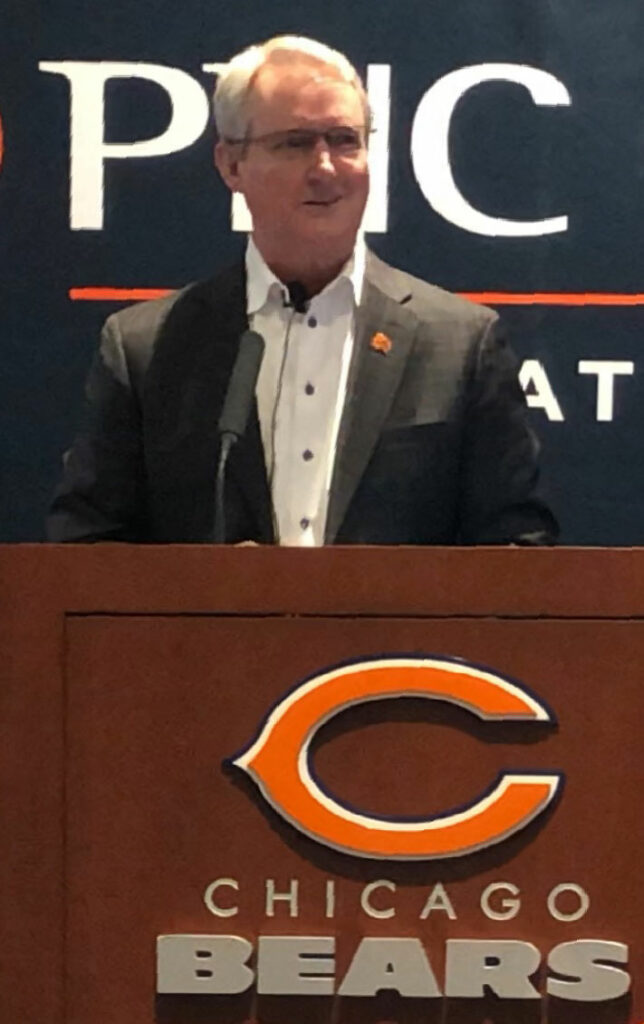 This event provided us with an opportunity to redefine our culture as we move into a new year and a new decade.
Since we moved buildings two years ago, we have actively pursued a unified culture. Our building, with its open concept offices and art on nearly every wall, fosters a creative, aspirational, and comfortable space that facilitates easier crosstalk between our teams. In that same spirit, we chose to innovate our traditional sales event and relocated to a space where everyone could feel welcome. We extended invitations to the entire company, gathering at Halas Hall and inviting Brian McCaskey to share some stories about the founding and history of the Chicago Bears with our staff. He emphasized the importance of being there for people on your team and those who were once part of your team. It provided a wonderful glimpse into the potential of an effective team with strong leadership.
Brian's entertaining and heartwarming stories captivated us, setting the tone for our awards ceremony. His words of inspiration reminded us of the timeless truth that "What's old is new."
Brian's reminder resonated deeply, highlighting that our company's evolution can honor our past and inform our future. With this perspective in mind, our dynamic leader, Carol Lynn McNally, took the stage to lead the awards ceremony.
Carol Lynn shared stories of our humble beginnings, reminding us of the steady progression of sales that has built momentum over the last 35 years. We then proceeded to honor our top sales performers for the 2019 calendar year: Todd Birkholz, Matt Kurowski, Donald Manns, David Nolan, and Mike Caruso. Dawn Passehl from Five Star Logistics received recognition for her dedication and exceptional sales performance. Jennifer Manns, Executive Vice President of St. Charles Trading Inc., was celebrated for her outstanding growth in the international sales division.
We also acknowledged the exceptional contributions of Doug Larson, who excelled as the director of finance and HR manager, providing valuable support during a significant coffee sale. Additionally, we celebrated the growth and improvement of several sales team members in the 2019 calendar year: Pete Bowe, Brendan O'Connor, Peter Gallagher, Lowell Crouse, and Mike Caruso. Together, these individuals embody the fighting spirit and resilience that drive our success.
As St. Charles Trading continues to grow and evolve, we embrace change as our distinguishing characteristic in the industry, and carry it into the new year!
Our focus extends beyond customers and prices; it encompasses our employees and our core values. Our mission to serve everyone in the company was successfully accomplished, evident in the fantastic turnout of 60 people at this unprecedented event. Laughter and shared learning permeated the atmosphere as one cohesive team. We celebrated our collective achievements in the exceptional setting of Halas Hall, reminding us of the bright new year ahead. Cheers to our continued success!